You can now buy the world's first USB-C iPhone
2021-11-03
Last month, Ken Pillonel - a robotics student from Switzerland showed the world his iPhone X with a fully working USB-C port. The very same phone is now being auctioned off on eBay and you can own a bit of history if you choose so. As of writing this article, the price has reached a sizeable $3,950.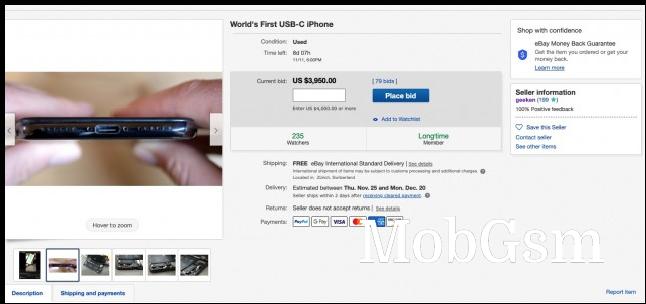 World's first USB-C iPhone listing on eBay
The phone in question is a pre-owned 64GB iPhone X in black and only comes with the box and no accessories included. Pillonel also advises it should not be used as a daily driver phone nor restored or have its data erased.
If you want to see how the device reached its final form, Pillonel also posted a complete guide on his YouTube account detailing the whole process. In short, he reversed engineered Apple's Lighting connector and then a replica Lightning connector which allowed him to make a flexible circuit board that managed to fit vertically inside the iPhone between the battery and Taptic Engine.
The whole project is open-sourced and you can find all the instructions on its GitHub repository if you want to have a go at modding an iPhone with USB-C yourself. Last but not least Pillonel said he will continue to tinker with USB-C on iPhones and even hinted at adding a USB-C connector to a pair of AirPods which will be an interesting project to follow.