Weekly poll: Nintendo Switch OLED vs. Valve Steam Deck
2021-09-13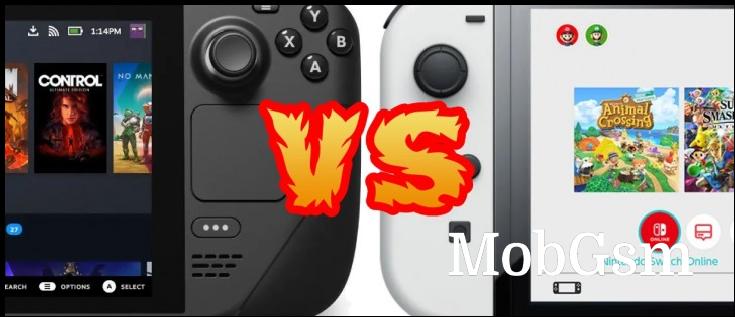 Last week Nintendo unveiled the OLED Switch, this week Valve unveiled the Steam Deck. Will you be picking up one of those or do you think that Android phones are the way to game on the go? Before we point you to the virtual voting booth, let's have a closer look at the competitors.
The Nintendo Switch OLED Model will be available in October starting at $350, this is with 64 GB storage (the original had 32 GB). It boasts a 7" OLED display, an upgrade over the smaller 6.2" LCD of the original (the Lite model has an even smaller display at 5.5"). It still has 1,280 x 720 px resolution, however.

The chipset is the same Tegra X1 as before, the rumors of an upgrade didn't pan out. This means you get 720p graphics in handheld mode and 1080p when docked (debatable, more on that in a minute). Battery life is in the 4.5-9 hours range (e.g. you can expect 5.5 hours when playing Breath of the Wild). This matches the revised version of the original Switch.
The dock has a new feature, a wired LAN port, which will enable a stable high-speed, low-latency connection even compared to new Wi-Fi standards. Speaking off, the Switch supports Wi-Fi 5 (ac).
Flipping over to the Valve Steam Deck, it will be available in December starting at $400. Note that this version comes with 64 GB of eMMC memory. If you want faster storage, i.e. an NVMe SSD, that starts at $530 for a 256 GB model. The RAM is always 16 GB of DDR5.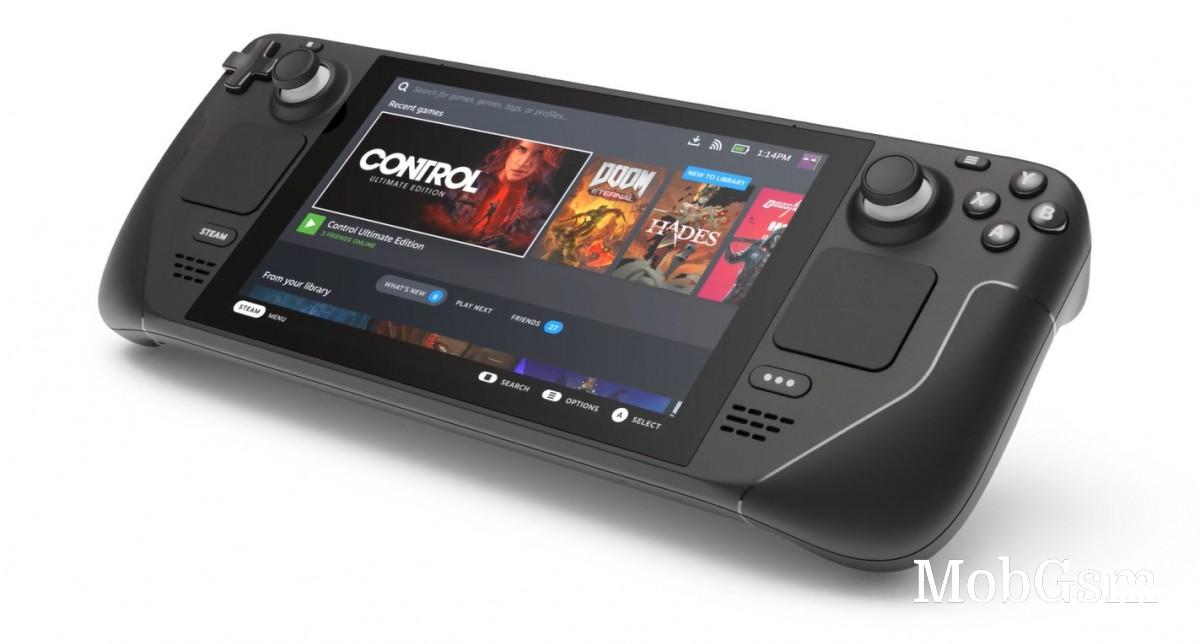 The Deck is powered by an AMD Zen 2 APU with 4 cores (8 threads) and an RDNA 2 GPU with 8 CUs. This is AMD's latest graphics architecture (Radeon 6000 series), while Ryzen APUs use the aging Vega architecture for their GPUs. So, this will be notably faster than Ryzen APUs, but not as fast as, say, the Radeon 6700 XT, which has 40 CUs (but costs as much as the Steam Deck itself and has a TDP of 230W).
Still, the onboard display won't wow you with graphical fidelity – it's a 7" LCD, a 16:10 panel this time, so 1,280 x 800 px resolution. It runs at a standard 60 Hz refresh rate and supports touch input.
If the display is too limiting, you can use the USB-C in DisplayPort 1.4 Alt-mode to output 4K resolution at 120 Hz or even up to 8K. Not that the GPU can get anywhere near playable frame rates at these resolutions. Though Switch owners will tell you that the aging Tegra chip is no speed demon either and true 1080p rendering is mostly a pipe dream.
Both consoles have microSD slots for memory expansion and while the Switch can play games off the microSD, we're not sure we want to run a PC-class game off one – using a USB 3.1 thumb drive will probably be a better option. Like with the Switch, there is an official dock for the Steam Deck that adds full-size DisplayPort and HDMI port, one USB-A 3.1 port and two USB-A 2.0 ports.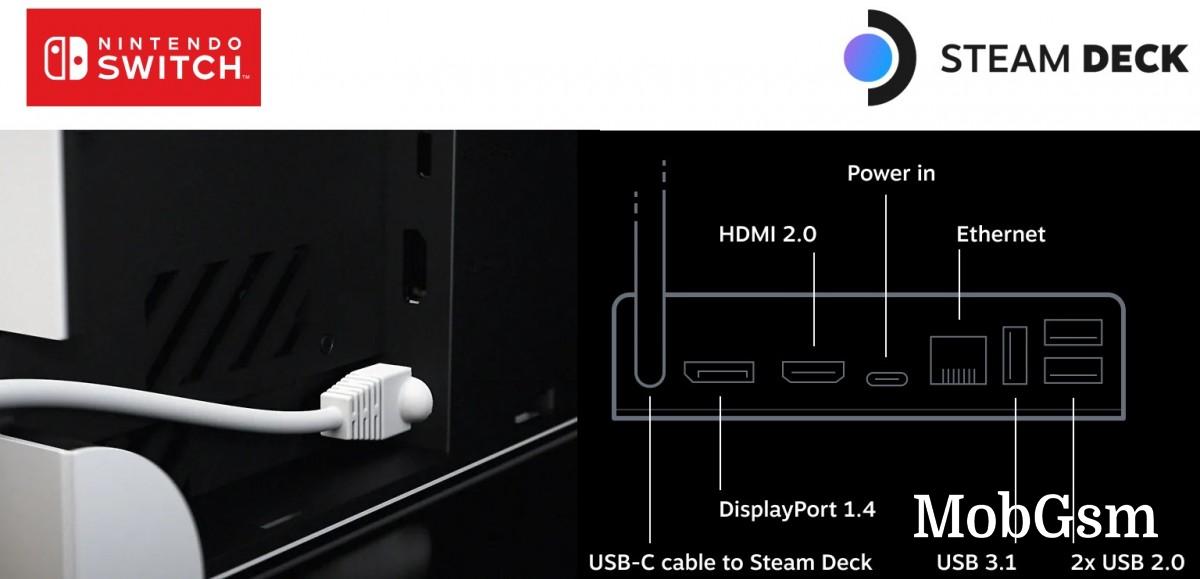 In terms of battery life, it varies greatly. The 40 WHr battery supports between 2 and 8 hours of playback. For network connectivity, there's Wi-Fi 5 (ac) again, if you get the dock you will also have wired Ethernet. The device weighs 669g, compared to 399g for the Switch (with the Joy-Cons attached).
Let's talk controllers next. The Nintendo Switch OLED has detachable Joy-Cons, which can act as wireless controllers for two players and also support motion controls. When attached, they give the console a pretty standard set of two analog sticks, a D-pad, four action buttons and four shoulder buttons.
The Valve Steam Deck takes a page out of the Steam Controller and has two touch pads. This is in addition to the two analog sticks, the D-pad, four action buttons, four shoulder buttons and four additional triggers on the bottom. Of course, both console allow you to attach additional controllers.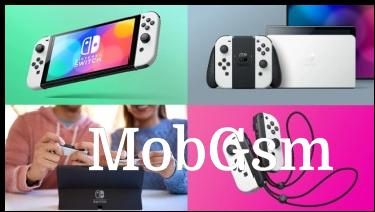 Controllers: Steam Deck vs. Switch
Finally, let's have a brief look at the game libraries, which are perhaps the most important feature on a console. They are both rich, but somehow they are diametrically opposed.
The Steam Deck runs SteamOS 3.0 (based on Arch Linux) and can play any game in the Steam library. This includes modern games, many classics and countless indie games.
The Nintendo Switch runs Switch-exclusive games, including a library of high-quality first-party titles (plus some NES/SNES evergreen titles).
There are alternative ways to game on the go. There are things like the Android-powered MOQI i7s that we reviewed a while back, which has built-in controls like these two. Devices like the Asus ROG Phone 5 boast a wide range of controllers too. In fact, Android phones in general should have native support for Sony's DualShock 4 and Microsoft's Xbox controllers (though this can be broken sometimes). You can even play PC and console games with cloud streaming services or stream the game from your own PC/console.
So, what will it be - a Switch or a Steam Deck? Or neither?
PS. we saw that some of you were having problems with voting. We use a third-party service for the polls (StrawPoll) and we think this may be related to its vote duplication check. Can you vote directly on strawpoll.com? What errors are you seeing and what browser are you using?