Oppo Pad 2 goes through Geekbench to test its Snapdragon 888 chipset
2023-03-06
The Oppo Pad arrived early last year, the company's first tablet, which was quickly followed by the more affordable Pad Air. Now attention is shifting to the Oppo Tab 2, which has leaked several times already – including leaving behind test results in the Geekbench database.
There was talk of a Dimensity-powered slate, but this isn't it – the Oppo Tab 2 (aka OPD2201) runs on a Snapdragon chipset. While the benchmark couldn't figure out which one exactly, this appears to be the Snapdragon 888 based on its clock speeds: 2.84GHz prime core, 2.42GHz mid-cores and 1.8GHz little cores. The original Pad was based on the Snapdragon 870 (and the Air used the Snapdragon 680).
The slate did both Geekbench 5 and the new Geekbench 6. It ran Android 13 and had 8GB of RAM.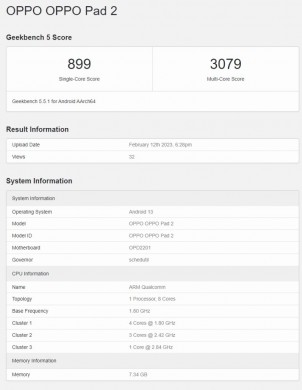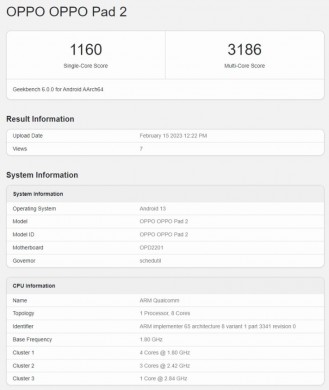 Oppo Pad 2 benchmark results: Geekbench 5.5.1 • Geekbench 6.0.0
From a 3C certification we know that the new slate will support 67W fast charging, double what the original could do. There was no mention of battery capacity there, but rumor has it that it will have 9,500mAh in its tank. Also, the Bluetooth SIG certified support for v5.3.
According to unconfirmed data, the tablet will have an 11.6" 144Hz LCD with 2,800 x 2,000px resolution. That same data also claimed a Dimensity 9000 chipset, so it may not be reliable.
The Oppo Pad 2 might be unveiled alongside the upcoming Find X6 series, though when that might be is anyone's guess at the moment.