AnTuTu performance report, August: Asus ROG Phone 6 with Snapdragon 8+ Gen 1 still on top
2022-09-07
AnTuTu's monthly report on the most powerful Android phones globally is out and (just like a month ago) the top is dominated by the phones based new Snapdragon 8+ Gen 1. The benchmark team warns that this won't last for too much longer now that the 8 Gen 2 is around the corner.
The team also points out that the market for gaming phones remains small. However, their superior cooling hardware allows them to edge out generalist flagships in raw performance.
The Asus ROG Phone 6 remains on top, specifically the 16/512GB configuration. Note that this is the non-Pro model. It is followed by the iQOO 9T in second and third place is interesting – the Red Magic 7 (non-S, non-Pro) with the original Snapdragon 8 Gen 1, which stays ahead of the Xiaomi 12S Ultra (which does have the 8+ chip).
The best-performing Dimensity 9000 based model (and only non-Snapdragon phone on the list) remains the base vivo X80. Note that AnTuTu averages multiple results and considers things like RAM and storage speed, so it's not always a case of "newer chipset = faster".
Also, this list tracks only phones available internationally, so some competitors who haven't left China yet are not on it (there is a separate list for the Chinese market). This explains why the Red Magic 7S hasn't supplanted its predecessor. The Red Magic 7 is one of the few phones that manage to rein in Snapdragon 8 Gen 1's thermal throttling thanks to its active cooling fan (also present on the 7S, of course).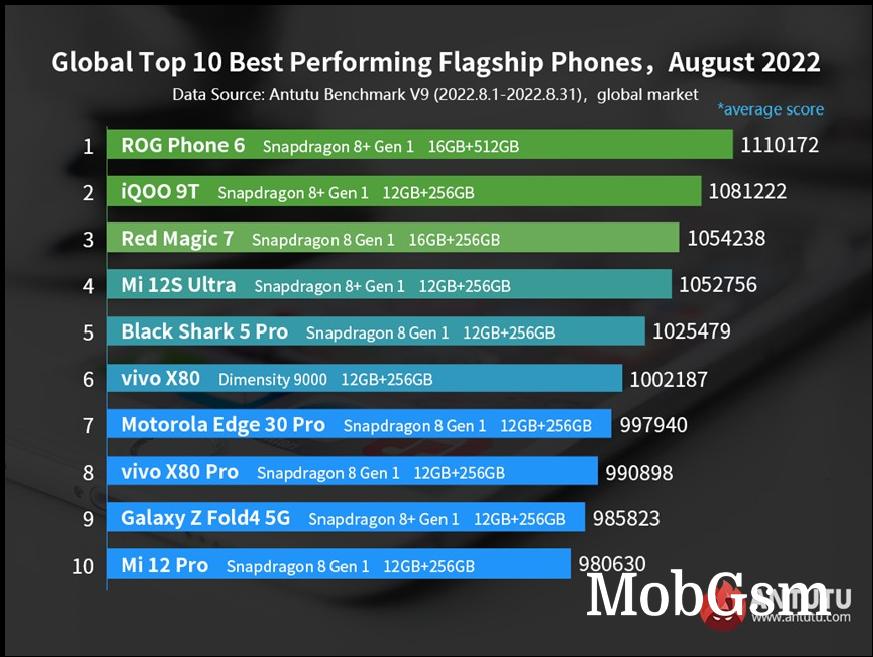 While MediaTek doesn't have much representation on the flagship Top 10, the "sub-flagship list" (i.e. the market between flagships and mid-rangers) is led by the Dimensity 8100, which is featured in the Top 3: Realme GT Neo 3, Poco X4 GT and Redmi K50i.
That said, the good old Snapdragon 870 fills most spots below #4, no wonder it has remained popular with premium models. Also worth noting is that the Dimensity 8100-Max variant (inside the OnePlus 10R), which was on top last month, has slid down to 4th.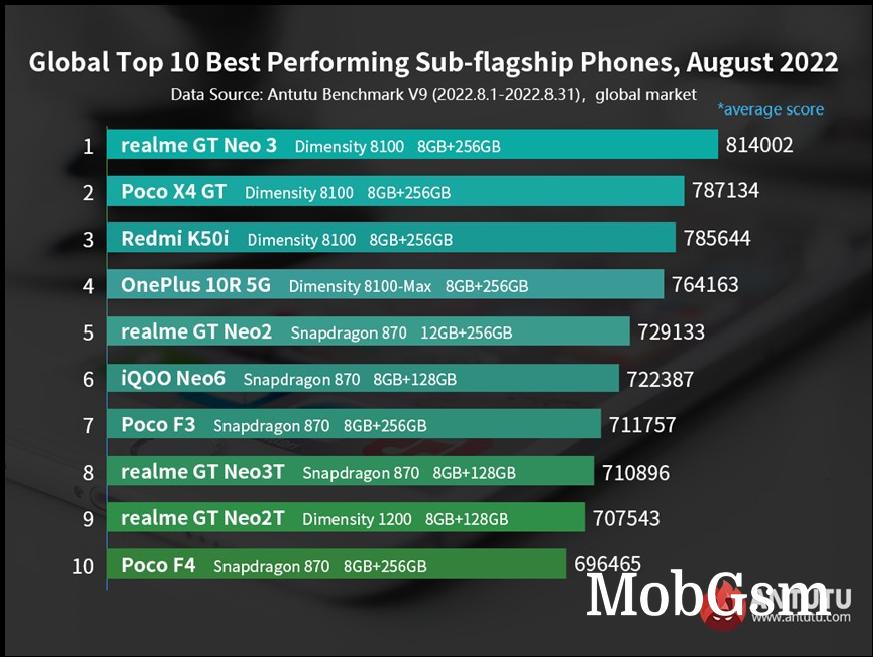 Finally, the Top 10 fastest mid-rangers – this is awash with Snapdragon 778G devices as the chip powers eight models. The top handset, the Nothing Phone (1), uses the 778G+ instead, so the domination is nearly total.
There is but one exception, the Xiaomi Mi 11 Lite 5G in 5th with the Snapdragon 780G. The 780G is very similar to the 778G, but they are built on the Samsung 5LPE node and TSMC's N6, respectively.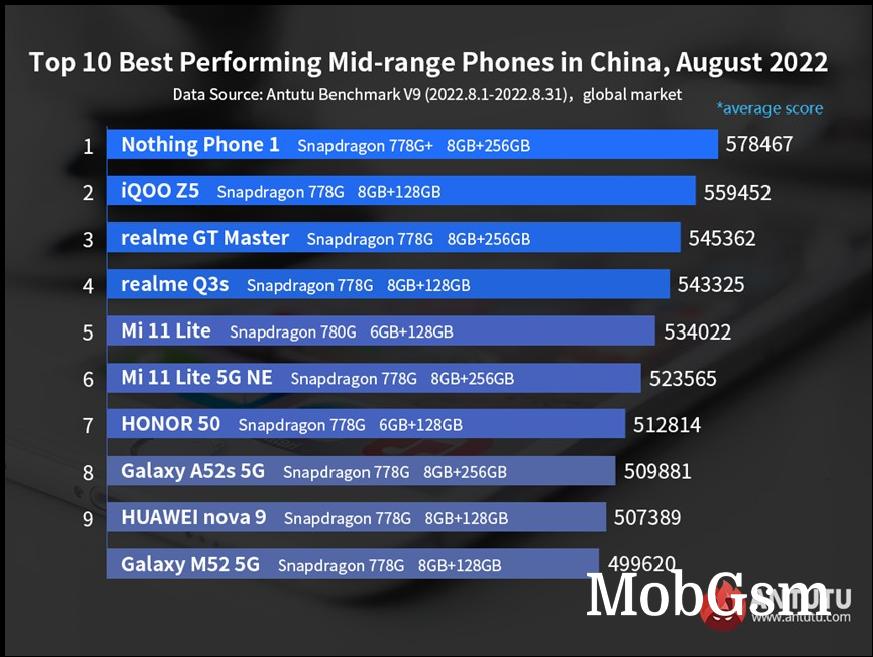 The new Snapdragon 7 Gen 1 is yet to make an impact in this category, the Dimensity 8000 is absent as well.